Septic Tank Pumping in Gettysburg PA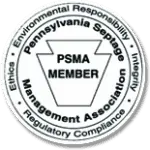 With over 60 years in the septic tank pumping business in Gettysburg PA, we've really gotten to see the majesty and living history of this whole magnificent region of South Central Pennsylvania. Maybe it's odd coming from a Septic Tank Pumping company, but we think Gettysburg PA is beautiful and we're working to keep it looking (and smelling) that way.
If you're lucky enough to live in the Gettysburg PA area, there's a straightforward solution to ensuring your septic system stays in proper working order for the good of your home's sanitation and your family's health: Regular maintenance, including inspection, pumping, cleaning and spot repairs by the certified local technicians of Smith's Sanitary Septic Service.
How often should Smith's Septic be visiting your Gettysburg PA home or property to perform expert Septic Tank Pumping? Generally, every one to two years for households with several residents and every three to four years for households with few residents. (The best frequency for pumping out your septic tank system may vary.)
But don't wait too long. Not pumping out and cleaning your septic tank can have very deleterious consequences, such as sewage back-up, foul odors, pooling water, broken and leaking pipes, slow drainage, and scum and sludge spilling onto lawn soil, possibly causing permanent damage to either the septic tank, the drainfield, or both. It's important to call Smith's Septic for septic tank pumping in Gettysburg PA.
Established 1959 and family-run to this day, Smith's Septic is Adams County's first choice in reliable, prompt, affordable, expert Septic Tank services. You'll see Smith's trucks (that we always keep spotlessly clean…on the outside!) at work performing septic tank pumping in Gettysburg PA, including the townships of Franklin, Highland, Straban, Mt. Joy, Cumberland, Freedom and Union and the surrounding towns of Hunterstown, Round Top, Lake Heritage, Bonneauville, Whitehall, Fairplay, Barlow, Mt. Pleasant, Greenmount, Table Rock, Orrtanna, Cashtown, McKnightstown, Arendtsville, Biglerville and Littlestown.
Contact Smith's Septic for your next septic tank pumping / septic tank cleaning in Gettysburg PA, whether residential or commercial job, by calling us at 717-637-5630 or 717-637-6570, or by emailing us at [email protected].
Septic Tank Pumping in Gettysburg PA Reviews
Our Septic Services
Installations / Repairs / Scheduled Maintenance / Locations / Inspections / Drain Fields / Excavations / Waste Disposal / Backhoe / Port-a-Potty Rental / 24/7 Emergency Response
Serving Hanover, York, Gettysburg PA and Westminster MD since 1959, Smith's Sanitary Septic Service is on the job when you need us most. Call 717-637-5630 today.
Need Septic Tank Pumping in Gettysburg PA?
Contact Smith's for professional, affordable septic tank maintenance, repairs, location, excavation and inspection services from certified, local pros.
Business: 717-637-5630
Alt. Number: 717-637-6570