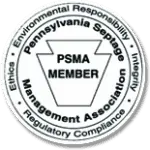 Septic Tank Service

Pros

in Pennsylvania!
Folks, you gotta do what you gotta do – and sometimes you gotta call Smith's Sanitary Septic Service.
Family owned and operated in Hanover, PA, since we first opened for business back in 1959, Smith's Sanitary Septic Service has the strength of three generations of licensed, bonded, insured, certified and trusted septic tank professionals.
Smith's Sanitary Septic Service performs design, new installation, pumping, cleaning, hauling, sanitation, electronic-assisted location, regular maintenance, emergency repair, excavation, removal and replacement of all types of septic tanks, holding tanks, wastewater systems, honeypots, portable toilets, port-a-potty units, pump stations and cesspools, including concrete, plastic, aerobic, above-ground and in-ground. We also perform inspections for township compliance and real estate transactions.
In addition, Smith's Septic Service offers backhoe, plumbing and jetter services, lagoon cleaning, food and commercial waste hauling, lift station and catch basin cleaning, and the pump-out, repair and replacement of grease traps.
We serve residential, commercial, municipal and industrial-scale customers, from single-family homes and multi-storey office buildings, to large sewage treatment plants and food-processing facilities.
What makes Smith's Sanitary your top choice for any septic tank service?
Our Emergency Response Team is ready on call 24/7
Our trucks & equipment are clean and well-maintained
We're prompt, affordable, local, and totally dedicated to absolute customer satisfaction on every single job
Free pre-job estimates on all septic tank repair work
We use modern, efficient pump technology that eliminates all solid waste, not just the water – nothing is left behind
Our goal is finding the best long-term solution to your specific wastewater, septic & sewage treatment problems, extending the life of your tank, unit & system to the max
Our continuing education in septic tank technology means we know everything there is to know about your septic system, so you don't have to
Smith's Sanitary Septic Service is a proud member of the Pennsylvania Septage Management Association (www.PSMA.net) for our commitment to ethics, integrity, regulatory compliance, environmental stewardship & responsible disposal practices
Smith's Septic is among the largest sanitation companies in the greater Dauphin County, Penn., area. That means we can handle septic installations, excavations, leach/drain fields and tank inspections from York to Gettysburg to Westminster, Maryland – plus every home, office, warehouse, factory and processing plant in between. We serve customers in or near:
York
Hanover
New Oxford
Edgegrove
Menges Mills
Stoverstown
Green Springs
Jefferson
East Berlin
Spring Grove
Abbottstown
Littlestown
Thomasville
Parkville
Dover
Lineboro
Shrewsbury
Lake Heritage
Union Mills
Westminster
Gettysburg
Manchester
Mention our website, SmithsSepticHanoverPA.com, and you'll receive two FREE cans of septic tank food! (Limit two cans per year.)
Our Septic Services
Installations / Repairs / Scheduled Maintenance / Locations / Inspections / Drain Fields / Excavations / Waste Disposal / Backhoe / Port-a-Potty Rental / 24/7 Emergency Response