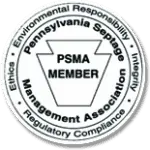 Our Septic Tank

Services

Keep You Running
A septic tank service company like Smith's Sanitary of Hanover PA doesn't just automatically gain acceptance into the Pennsylvania Septage Management Association without first being recognized as top-quality. The PSMA is for those companies who've demonstrated a consistently high standard for septic tank expertise, environmental protection and customer satisfaction – something we've aimed for every day since Smith's Sanitary Septic started back in 1959.
For any question, issue, replacement or sudden emergency repair, the only company you need to call for septic tanks and septic systems is Smith's Sanitary Septic Service. No matter the type of tank or architecture of design, the certified professionals of Smith's have seen it before and can help you with any septic tank concern. Services like:
Septic system design
New septic/sewage installation
Old septic tank location (electronic)
Old septic tank excavation
Septic tank pumping
Septic tank cleaning
Catch basin cleaning
Cesspools
Grease trap pumping
Grease trap repairs
Hauling and disposal of sludge
Food waste disposal
Commercial waste disposal
Backhoe services
Jetter services
Lagoon & wetland scrubbing
Portable toilet (port-a-potty) rental
Full-system inspections
Regular maintenance
24/7 emergency repairs
All septic services are important for the smooth operation of your tank and its entire system. However, the most crucial service Smith's Sanitary Septic offers our customers in and near Dauphin County is the yearly inspection and maintenance check. Just like a car, your septic tank needs an occasional fix or repair to keep working the way it needs to.
Inspections and maintenance service on your Hanover PA septic tank system and its connected drains and pipes must be followed regularly – because after all, we all want to stay regular, right?
Our Septic Services
Installations / Repairs / Scheduled Maintenance / Inspections / Drain Fields / Waste Disposal / Backhoe / Port-a-Potty Rental / 24/7 Emergency Response
A proud Hanover PA company since 1959, Smith's Sanitary Septic Service is on the job when you need us most. Call 717-637-5630 today.