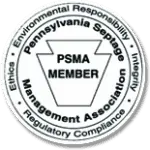 Portable toilet rentals:

When you're on the go and you gotta go
It's a lifesaver, when you're out on a construction site or at a concert and you suddenly get that familiar urge…you need a portable toilet and you need one fast. So you look around the ground and you find it – that tall, blue, welcome oasis of relief with the green "Unoccupied" sign showing.
Whatever you want to call it – a port-a-potty, a port-o-potty, a honeypot, a restroom al fresco, a john in a can – portable toilets are worth their weight in gold.
Smith's Sanitary Septic Service of Hanover, Gettysburg and York, Pennsylvania, and Westminster, Maryland, has all your portable toilet needs covered. From consultation, rental and delivery to pickup, maintenance and cleaning, we rent portable johns for any occasion and any duration.
It's a real deal to rent a port-a-potty from Smith's Sanitary.
Our rental prices are very reasonable…but you can't put a price on that kind of relief. Call Smith's Sanitary Septic Service today at 717-637-5630 and ask about renting one (or a couple dozen) of our porta-potties and portable toilets.
Our Septic Services
Installations / Repairs / Scheduled Maintenance / Locations / Inspections / Drain Fields / Excavations / Waste Disposal / Backhoe / Port-a-Potty Rental / 24/7 Emergency Response
Serving Hanover, York, Gettysburg PA and Westminster MD since 1959, Smith's Sanitary Septic Service is on the job when you need us most. Call 717-637-5630 today.