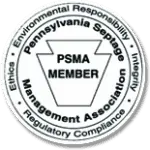 Pump

Out Your Septic Tank Now, Or Pay For a New One Later
We at Smith's Sanitary Septic Service believe it's a simple calculation for any homeowner or waste management operator to make, when it comes to paying for regular maintenance on their septic tank system: Pay a little bit every year or two to have your septic tank professionally pumped out and cleaned up…or let it go for about ten years, and be forced to pay plenty – tens of thousands of dollars – for the excavation of your old, failing tank and the installation of an expensive new one.
It makes lots of sense to get your septic tank pumped out every two years or so, no longer than three. It makes more than lots of sense; it makes lots of dollars.
All the customers we've worked with since 1959, both residential and commercial from York PA to Westminster MD, know this well: Regular septic pumping service is a must for your tank to last in your home as long as you do. Don't wait until you see problems with your septic tank before calling Smith's Sanitary Septic Service for a thorough pumping and cleaning. By then, it'd be too late and a more expensive repair would be in your near future.
There's also an environmental consideration in favor of regular septic pumping: A tank filling up with sludge allows more unsettled, untreated sewage to leave the holding chamber too early, clogging up the tank's outflow to the external absorption system. That in turn could cause unsanitary wastewater to back up into the home's plumbing…which means more costly fixes and some really unpleasant photo ops.
The moral of the story is that the annual or biannual pump-out of your septic tank (pump frequently depending on the tank's size, type and use) is standard maintenance that helps keep your septic system in top working order. Call Smith's Sanitary Septic Service of Hanover, York, Gettysburg and Westminster at 717-637-5630 and make your septic tank pumping appointment today…or, you can make your excavation and installation appointment later – that works for us too.
Our Septic Services
Installations / Repairs / Scheduled Maintenance / Locations / Inspections / Drain Fields / Excavations / Waste Disposal / Backhoe / Port-a-Potty Rental / 24/7 Emergency Response
Serving Hanover, York, Gettysburg PA and Westminster MD since 1959, Smith's Sanitary Septic Service is on the job when you need us most.
Call 717-637-5630 today.