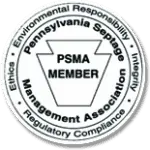 Laying the

Groundwork:

Septic Tank Installation
Ever since Smith's Sanitary Septic Service entered the sanitation business for Hanover, PA, back in 1959, we've known how big a deal a new septic tank installation is. Installing a brand new late-model septic tank is a significant investment of time and cost, so it has to be done right.
It requires locating (sometimes using electronic sensing equipment) all previous tanks and pipes, then the expert excavation thereof. It requires planning, design, permitting, soil testing, communicating with your local health department, checking for buried utility lines, then a whole lot of digging and earthmoving (the top of the tank should be two to four feet below the grade of the ground above) – and all of that work comes before your new septic tank even makes its highly anticipated debut appearance in your yard.
In addition, a new septic tank installation – whether concrete, plastic, aerobic or an alternative septic system – means properly preparing the surrounding grounds to receive the treated effluent. This means the construction of sand, silt, wetlands or other approved absorption and filtration method for leaching the former wastewater back to the environment.
And then comes the tank.
A standard residential septic tank can weigh over three tons; larger commercial and industrial models tip the scales at around five tons. Installing a new septic tank requires engineering precision, technical know-how, and the experience to make it work right, right away. With almost 60 years performing full installs of septic tank sewage systems from Abbottstown to New Oxford to Shrewsbury, from Gettysburg to York to Westminster, Smith's Sanitary Septic Service is the local company to trust for your best septic tank installation.
Our Septic Services
Installations / Repairs / Scheduled Maintenance / Locations / Inspections / Drain Fields / Excavations / Waste Disposal / Backhoe / Port-a-Potty Rental / 24/7 Emergency Response
Serving Hanover, York, Gettysburg PA and Westminster MD since 1959, Smith's Sanitary Septic Service is on the job when you need us most. Call 717-637-5630 today.