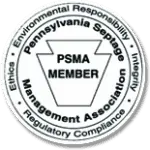 Maintenance & Repairs:

The Secret To a Long (Septic Tank) Life
Smith's Septic has been a successful septic tank installation, excavation, maintenance and repair company in and near Gettysburg and York for going on 60 years because we know the best techniques for keeping your system working like it should.
Here are a few of the most common standard maintenance measures we use to ensure the smooth operation of your septic tank for years, even decades, into the future:
Pumping – 

We at Smith's Sanitary Septic Service cannot stress enough how important regular pumpouts are to the performance and safety of your whole septic tank system. When you have Smith's pump out your tank, you're removing settled, inorganic sludge and refreshing the tank to receive more household wastewater.

Cleaning – 

Like any equipment, septic tanks (whether concrete or plastic) perform more efficiently when the tank's interior and baffle are professionally cleaned.
Reducing strain on absorption (drainage) field – Let the drain field do what it is meant to do: filter and drain pre-treated wastewater from the effluent level of the septic tank. It's a smart maintenance strategy to limit the amount of laundry-room water entering the septic system, because lint causes clogging and detergent can kill the tank's useful bacteria.
Some of the more common septic tank and septic system repairs we are called upon to fix:
Broken pipes – 

Household wastewater travels through plastic or copper piping which can deteriorate over time, causing sewage pipes to leak or burst. Pipes can also be broken by tree roots or by shifting soil.

Absorption (drainage) field failure – 

No drain field can last forever, but that tiny-yet-important plot of land will be ruined quickly if the septic tank's sludge and scum layers aren't pumped out on a regular basis. If the drain field fails, it must be reconstructed around the septic system.

Bacteria replacement on aerobic tank units – 

One alternative septic tank system uses coliform bacteria to eat fecal and other carboniferous solids, but like all living things these bacteria eventually die if they lack food for any length of time. Smith's Sanitary Septic Service can put the right bacterial culture back to work for you.

Buildup of foreign material – 

When inorganic garbage and pieces of trash – dental floss, diapers, cigarette butts, etc. – find their way through the plumbing pipes and into your septic tank, they don't decompose quickly (if at all) and they can clog or block septic units. This can cause sewage to leak prematurely into the leach field and back up into the home's toilets and sinks.
As always, the wise homeowner or property manager fixes septic tank maintenance and repair issues when they're small or hardly there at all, before they become big, unsanitary and expensive. So, the wise homeowner (or businessowner, or property landlord, or alert tenant) has Smith's Sanitary Septic Service's 717-637-5630 number in Hanover PA already in their phone, and will be making that easy call today.
Call today to schedule your septic repair appointment
717-637-5630
Comprehensive, Quality Septic Services

For your peace of mind, our Response Team is on call 24 hours a day, 7 days a week to immediately handle any septic emergencies.

We've been in business since 1959, but we're always learning everything possible about your septic system – so you don't have to.

Installation, electronic location, tank excavation, repair, leach/drain fields, inspections and more septic services for home, office and industry.
As a homegrown small business based in Hanover, PA, Smith's Sanitary Septic Service takes pride in providing total customer satisfaction.
Preventative
Maintenance
When correctly installed and maintained, your septic system is an efficient method of treating your wastewater. With our cost-effective repairs and maintenance, you can better protect your septic system and your home, avoiding more expensive repairs down the road.
Get 2 cans of septic tank food FREE! (Limit 2 cans per year)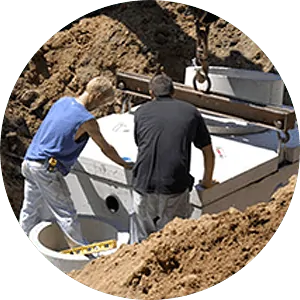 Our Septic Services
Installations / Repairs / Scheduled Maintenance / Locations / Inspections / Drain Fields / Excavations / Waste Disposal / Backhoe / Port-a-Potty Rental / 24/7 Emergency Response
Serving Hanover, York, Gettysburg PA and Westminster MD since 1959, Smith's Sanitary Septic Service is on the job when you need us most. Call 717-637-5630 today.