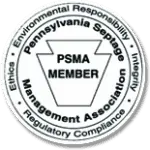 A Look At Septic Tank

Inspections
After seeing countless septic tank systems across Dauphin County PA, from Hanover to Gettysburg and back over to York, we at Smith's Sanitary Septic Service have come to realize one essential truth:
A thorough, professional inspection of your septic system can literally be a lifesaver.
Septic tanks hold some inherent dangers that must be respected. A septic tank is large and cavernous, full of toxic chemicals like methane, and usually buried out of sight in the ground. It can work perfectly for years and years, but if it doesn't, regular septic tank inspections will root out the problem.
What kinds of problems can a septic inspection find? All kinds:
Leaks and seepages of sewage
High levels of sewage in the tank
Inadequate or poor-fitting manhole covers
Risks of soil erosion and ground collapse
Waterlogged or clogged drainfield
Cracked or damaged baffles
Corroded tank interior
Tree roots growing into drain pipes
Backflow of effluent into the home's or building's plumbing
A full septic inspection is required of any real estate transaction involving a piece of property with a septic system installed, so there's a compulsory regulatory reason for getting your septic unit inspected.
But there's a much better rationale for calling Smith's Sanitary Septic Service in Hanover PA for your septic tank inspection: The peace of mind that comes with keeping your family safe.
Our Septic Services
Installations / Repairs / Scheduled Maintenance / Locations / Inspections / Drain Fields / Excavations / Waste Disposal / Backhoe / Port-a-Potty Rental / 24/7 Emergency Response
Serving Hanover, York, Gettysburg PA and Westminster MD since 1959, Smith's Sanitary Septic Service is on the job when you need us most. Call 717-637-5630 today.