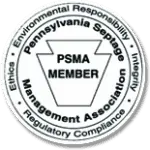 Every septic tank needs septic pumping to clean out the thick substances that are left at the bottom of the tank. When waste water drains out of your home into the septic tank outside the house, it combines with waste from the toilet, the sink, shower, and every other part of the house. At the bottom, the heaviest of the waste called sludge, settles. The middle part is made of clear liquid called effluent while oils, fats, and proteins make up the top floating layer.
Usually, the drainage system is designed so that only the top layer is let out into the soil, but above the water table.  Effluent contains organic matter that is good for the soil and is degraded perfectly by good soils and it acts as fertilizer. The home owner, if they are keen, will notice when anything goes wrong. With regular maintenance, the septic tank should work like clockwork.
Removing the Sludge
It is recommended that scum and sludge should not fill up 30% of the septic tank, which is where we come in to offer pumping services when the levels exceed this. A typical family of four will exceed the required level in a 1,000-gallon septic tank in about 1.5 years, during which time the tank should be pumped at least once.
Services offered by Smith's Sanitary Septic Services
We recommend that you have your septic tank pumped more often if you have lots of biodegradable and non-biodegradable waste. You should not neglect your septic tank until the heavy material at the bottom starts being absorbed to the absorption area, and so you should have the tanked checked every year to ensure that the level of sludge is where it should be. We recommend pumping the tank once every two years depending on usage.
Our experts break up the sludge and mix it with the liquid at the top of the tank before extracting it. We do not use additives to reduce the amount of sludge as we know it could damage the tank over time.
Septic tanks are buried in the ground and hidden away from site and so they are easy to ignore as long as they work perfectly, which they will do for years. An inspection becomes necessary only when you notice there could be an issue that needs addressing or when you are about to make a real estate transaction. Smith's Sanitary Septic Service in Hanover PA is available to do a thorough inspection to ensure that your tank is in its best shape.
Also, do you know that an inspection could save you lots of money by simply exposing the state of your septic tank – to discover cracks, a corroded tank interior, or clogged drainfield?
Septic Maintenance and Repairs
The only way to ensure that your septic tank serves you for long is by repairing and maintaining it regularly. Having your tank pumped regularly is not enough. Professionally cleaning it every now and then is just as important and will catch small issues before they become repair-worthy.
Does your Septic Tank Need Pumping?
Few home owners are able to properly maintain their septic tanks, and so they may fail to notice when they need some urgent action. It becomes clear that your septic tank is full when any of this things happen:
You have stagnant water in the yard.
A backed-up toilet makes it pretty obvious.
Strong unpleasant odor coming from the sewage area.
A drainage that you can't unblock.
You should not have to wait until your septic tank becomes problematic to call for help. Just ask for York PA Septic Pumping from Smith's.
York PA Septic Pumping Reviews
Our Septic Services
Installations / Repairs / Scheduled Maintenance / Locations / Inspections / Drain Fields / Excavations / Waste Disposal / Backhoe / Port-a-Potty Rental / 24/7 Emergency Response
Serving Hanover, York, Gettysburg PA and Westminster MD since 1959, Smith's Sanitary Septic Service is on the job when you need us most. Call 717-637-5630 today.
York PA Septic Pumping Services
Contact Smith's for professional, affordable septic tank maintenance, repairs, location, excavation and inspection services from certified, local pros.
Business: 717-637-5630
Alt. Number: 717-637-6570