Septic Tank Inspection Company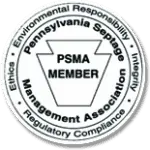 Let's take a page to talk about the vital importance of regular Septic Tank Inspections – and of hiring a company of top-quality, experienced, certified professionals to perform that all-important inspection.
In Hanover PA and surrounding areas around Gettysburg, York, and Westminster, that top-quality Septic Tank Inspection company is Smith's Sanitary Septic Service of South Central Pennsylvania and Carroll County MD.
When dealing with wastewater sanitation, expertise matters. It's a safety issue. Thoroughly inspecting a septic tank and its connected systems, including intake pipes, outflow valves and baffles, immediately makes that home, office building or construction site safer for human habitation. If you're responsible for a septic tank that has gone un-serviced and un-inspected for more than a couple years, it would be prudent to get the pros at Smith's to come out for an inspection.
Peace of mind is one of the biggest benefits of calling Smith's Sanitary Septic Services for your next septic tank inspection. Residential or commercial customers may contact our home office at 717-637-5630, 717-637-6570, or [email protected] to request a free estimate and make an inspection appointment.
But there are myriad other benefits too. A septic tank is a marvelous example of simple technology, but the very nature of its contents makes Septic Tank Inspections a necessary component of owning one. Noxious sewage can build up to excessive levels. Covers and baffles can crack. Surrounding soils can erode, causing the ground to collapse. Drainfields can become waterlogged and clogged, risking permanent damage. Tree roots can grow into pipes, twisting and breaking them.
It pays to have Smith's Sanitary Septic Service be the company that does the inspection on your septic tank. Experience matters when catching small problems before they get big. For pumpouts, cleanings, electronic locations, backhoe excavations and most importantly those regular septic tank inspections, the company that means business is Smith's Septic of Westminster MD and Hanover, Gettysburg and York PA
Septic Tank Inspection Company Reviews
Our Septic Services
Installations / Repairs / Scheduled Maintenance / Locations / Inspections / Drain Fields / Excavations / Waste Disposal / Backhoe / Porta-Potty Rental / 24/7 Emergency Response
Serving Hanover, York, Gettysburg PA and Westminster MD since 1959, Smith's Sanitary Septic Service is on the job when you need us most. Call 717-637-5630 today.
Septic Tank Inspection Services
Contact Smith's for professional, affordable septic tank maintenance, repairs, location, excavation and inspection services from certified, local pros.
Business: 717-637-5630
Alt. Number: 717-637-6570