Septic Tank Cleaning Companies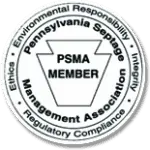 What should you look for when looking for septic tank cleaning companies serving folks in Gettysburg, Hanover, York PA and Westminster MD? Well, when reliability matters and safety comes first, it behooves you to call the local family-owned Septic Tank Cleaning company with over 60 years in the business of taking care of your business: Smith's Sanitary Septic Services.
Providing the best Septic Tank Cleaning service means everything to Smith's Septic as a company. Because it's your family's health and your property's well-being at stake, we at Smith's Septic in South Central Pennsylvania strive to perform to our utmost expertise on each job – which is how we're able to confidently offer our exclusive guarantee of total satisfaction to every customer.
The proof is in the reviews. Check out the 5-star posts about Smith's Septic on Google, Facebook and elsewhere on the Internet; read through the testimonials on the Smith's Septic website. We rely on building trust with our customers, so that year after year they call Smith's Sanitary Septic Services when it comes time for the next septic tank inspection, pumping, cleaning or round of regular maintenance on your residential or commercial-grade septic tank. Home, office or construction site, your business is our business – literally.
Around our hometown of Hanover PA, down in Westminster MD, over in York or up in Gettysburg, Smith's Sanitary has been tops among local septic tank cleaning companies because our certified expertise is prompt, thorough and affordable. Through regular maintenance, Smith's works to catch problems before they become costly repairs – and our 24/7 Emergency Response Team is ready at all hours to spring into action in the unfortunate event of a damaged tank, burst pipes, or clogged septic system backing sewage up into your home.
Call us at 717-637-5630 or 717-637-6570, or email [email protected]. Go with the local certified pros: Smith's Sanitary Septic Services, a proud South Central Pennsylvania company since 1959. Experienced, full-service and always available for installations, excavations, emergency repairs and standard maintenance, we'll prove to you we're the top choice of all Septic Tank Cleaning companies serving Adams, Cumberland, Franklin, York County PA and Carroll County MD.
Septic Tank Cleaning Company Reviews
Our Septic Services
Installations / Repairs / Scheduled Maintenance / Locations / Inspections / Drain Fields / Excavations / Waste Disposal / Backhoe / Porta-Potty Rental / 24/7 Emergency Response
Serving Hanover, York, Gettysburg PA and Westminster MD since 1959, Smith's Sanitary Septic Service is on the job when you need us most. Call 717-637-5630 today.
Septic Tank Cleaning Services
Contact Smith's for professional, affordable septic tank maintenance, repairs, location, excavation and inspection services from certified, local pros.
Business: 717-637-5630
Alt. Number: 717-637-6570