Septic System Repair Contractors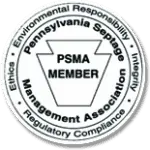 Putting knowledge to work for more than 60 years – that's what makes Smith's Sanitary Septic Service the premier septic system repair contractors in South Central Pennsylvania and Carroll County, Maryland.
Perhaps in no instance is our expertise more relevant than in cases of emergency repairs. If a septic system fails, the results could be more than merely unpleasant; it might be health-threatening situation requiring immediate professional attention.
Smith's Septic staffs a 24/7 Emergency Response Team of qualified, certified, trained and experienced Septic Tank Repair Contractors available to rush out to your location – residential home, commercial office, or industrial construction site – to quickly remedy any threats to safety caused by Septic Tank failures.
What are a septic tank's failure points? Intake valves can break. The interior can erode. The baffle can crank. The access cover may warp and no longer fit. The drainage (or absorption, or leach) field may become over-saturated with scum and sludge, if not regularly pumped out, thereby ruining the drainfield. Tree roots can twist pipes, and foreign objects can clog them, causing sewage to backflow – and that's unquestionably a hazard to your family's health.
The technology behind septic tanks has existed for more than 120 years – and Smith's Sanitary Septic Service of Hanover PA has been repairing, inspecting, pumping out, cleaning, excavating and installing high-quality septic tank systems in Adams, York, Dauphin, Franklin and Carroll counties for more than 60 years. It's a highly reliable sanitation method for disposing of wastewater – if regular maintenance and upkeep is performed.
Keep your precious septic system properly maintained – and be ready if ever an unexpected emergency arises. Call the local pros at Smith's Sanitary Septic Services at 717-637-5630 or 717-637-6570 to reach Smith's 24-hour-a-day, 7-day-a-week Emergency Response Team and put South Central Pennsylvania's top septic system repair contractors to work.
Septic System Repair Contractor Reviews
Our Septic Services
Installations / Repairs / Scheduled Maintenance / Locations / Inspections / Drain Fields / Excavations / Waste Disposal / Backhoe / Porta-Potty Rental / 24/7 Emergency Response
Serving Hanover, York, Gettysburg PA and Westminster MD since 1959, Smith's Sanitary Septic Service is on the job when you need us most. Call 717-637-5630 today.
Septic System Repair Services
Contact Smith's for professional, affordable septic tank maintenance, repairs, location, excavation and inspection services from certified, local pros.
Business: 717-637-5630
Alt. Number: 717-637-6570